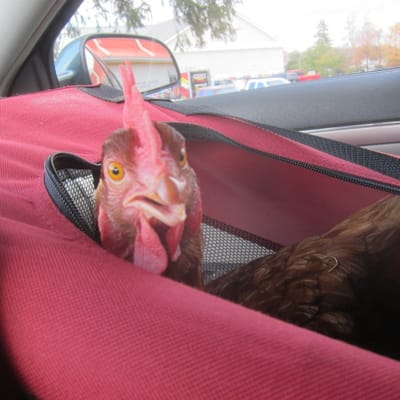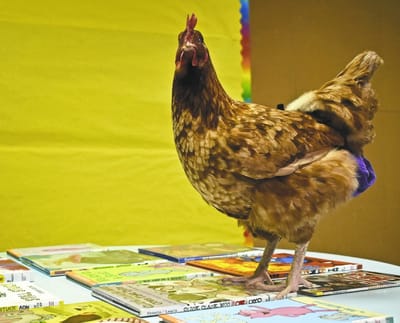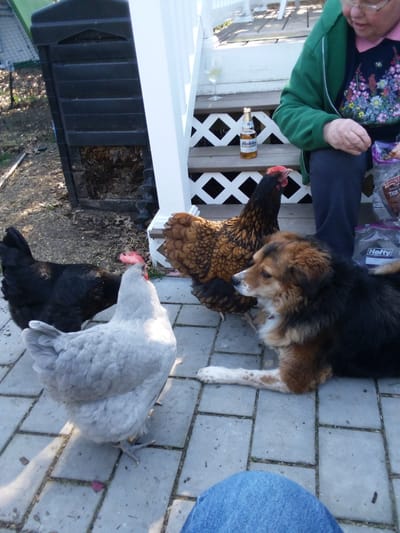 Congratulations to the communities of Runnemede, Haddonfield, Tavistock and National Park, N.J. There were several others I can't recall that I will post when I verify them. We will add them to our list along with Tinton Falls and Oakland, New Jersey (west of Newark) . These towns have successfully passed their chicken ordinances. We wish them much happiness and success with their chickens. We are working with several other communities in Burlington County recently and the outlook is bright.

We are proud to announce that we have become associated with the Princeton, NJ Adult Evening School as an instructor. We have also joined the faculty of the Main Line (Pennsylvania) Adult Evening School. We are also teaching classes at the Burlington County AG center whre we hope to have more of a presence.

We are quite proud of our association with the Museum of Natural Science in Philadelphia, Pa.
We make periodic visits there throughout the year. We are especially proud of our work with them with autistic kids where the kids get to come into the museum before the general public. Call the museum or check their web site for more information.
-----------------------------------------------------------------------------------------------------------------------------------------
One time we visited a school in Cherry Hill and were met by Nora Muchanic and her photographer. They were retiring in a few days and they were quite enthused to get do a positive story on Rosebud and her friends.

By Nora Muchanic, Thursday, October 26, 2017 06:42, PM CHERRY HILL, N.J. (WPVI) --Channel 6, Philadelphia,PA


You may have heard of therapy dogs or even therapy horses, but Rosebud the therapy chicken is a whole different breed.

This two-year-old ball of feathers was visiting the TOPS adult day program at the Jewish community center in Cherry Hill, where she's always a hit.

Rosebud's owner Gwenne Baile is a retired nurse-midwife who loves chickens and has taken classes to be a therapy chicken handler.

"She's very soft, she's very nonthreatening and most people just really enjoyed the whole feel of her and the stroking of her calms them," said Baile.

Stephan Slowinski, a client at TOPS, likes to sing to Rosebud.

"Well she is very soft and cuddly and a good friend," said Slowinski.

In fact most of the people at TOPS seem to enjoy Rosebud's company.

"I like her calm demeanor and the way her feathers feel smooth," said Erica Gensel.

Baile said she knew when Rosebud was just a chick that she had the right stuff, the perfect temperament to become a therapy chicken.

"I realized that she loved to be held," said Baile. "She liked to be on my lap and be cuddled."

Rosebud is one busy chicken. She has her own Facebook page, and she also regularly visits senior citizen homes, libraries, schools and festivals free of charge.

"I do see us as being chicken ambassadors," said Baile. "Showing people that they're not dirty barnyard animals."

Rosebud wears a little diaper for inside visits and there's always hand sanitizer after. A few moments with this 4 pound hen can be a relaxing treat--just ask 29-year-old Greg Wineland.

"Feels like a miracle," said Wineland. "A wonderful experience."

-




Krista CerminaroFollow
Feb 1
Books and Beaks
Pinelands Branch Library hosts its first 'Chicken Paws to Read' event
Rosebud The Chicken poses on a clever selection of books provided by the library for the "Chicken Paws to Read" event
By Krista Cerminaro
Although talking loudly in a library is typically frowned upon, clucking certainly isn't at Pinelands Branch Library, where it welcomed a not-so-typical guest last Tuesday.
Paws to Read, a program that allows children to read to therapy dogs, was implemented at the library a few years ago, according to Pinelands librarian Rick Yankosky.
This time, however, it was Rosebud — a certified therapy chicken — who served as their audience.
Librarian Rick Yankosky helps Julius and Elijah Harvey read to Rosebud.
The library's first "Chicken Paws to Read" sparked a lot of interest, according to Yankosky.
"I saw that it was an opportunity, and I said yeah — I think our patrons would like that," Yankosky said. "And, who gets to read to a chicken?"
While chickens and children altogether seem like a chaotic combo, Rosebud couldn't have been calmer.
"Nothing bothers her at all," said Rosebud's owner, Gwenne Baile — also known as "The Chicken Lady of South Jersey."
Baile said she participated in 102 events with Rosebud in 2017 — including visits to the elderly, school science fairs, fall festivals, children with disabilities and more. But this was the first event where children were able to read to Rosebud.
"I just get a kick out of the kids," said Baile, who sat Rosebud on her lap throughout the duration of each reading session.
Librarian Danielle Haubrich reaches out to touch Rosebud with her children, Ben and Grace Haubrich
Despite the children showing some initial shyness to approach Rosebud, or even sit too close, they were ultimately pleased to pet her, and intrigued by her "Swedish fish-like" comb, as Baile best described it. Yankosky explained the program is aimed to get kids more comfortable with being around animals, as well as give them a non-judgmental audience to read to.
"If they're not real confident with their reading, no one's saying 'no, [it's] this, or that,'" Yankosky said. "It's just them and the dog. Or — them and the chicken."
Sisters Larissa and Abigail Sheridan of Medford, NJ, take turns reading a book to Rosebud.
"Also, they get more comfortable with animals," Yankosky continued. "Some people we have are afraid of dogs, or have never seen a chicken before. So this gives them the opportunity to engage with an animal."
Baile said the idea of a therapy chicken isn't much different than a therapy dog.
"They're very non-threatening because they're small," Baile said. "It just relaxes people, decreases blood pressure — what all the other therapy animals do."
One advantage of a chicken, Baile noted, is their uncommonness.
"I think — especially with working with some autistic kids, developmentally challenged kids and young adults — is they might've been growled at by another dog. Not a therapy dog, but a dog. So, they're petrified of dogs. It doesn't matter what kind of therapy dog it is. They won't go anywhere near it," Baile explained. "They don't normally have a frame of reference when it comes to chickens. Their grandmothers didn't have chickens that they got chased around the farm, and now they're afraid."
However, according to Baile, not all chickens have what it takes to become therapy animals.
Rosebud sits on the lap of her owner, Gwenne Baile. Baile told the children that the red comb at the top Rosebud's head feels like a Swedish Fish candy.
"It's not like you can take a standard, ordinary chicken that would run all over creation and say, 'OK, I'm going to make you a therapy chicken.' It really is their personality," said Baile, who noticed Rosebud's patient nature and decided to get her certification through Chickens and You, an online training program. "I knew I had the right chicken, and because I'm a retired nurse — it just went so hand-in-hand. It was something that I knew I could really put my retirement into doing."
As if Rosebud the therapy chicken didn't leave behind enough of an impression at the library, she also left behind "The Little Red Hen," a book she donated to the Pinelands Branch library — and autographed — with a footprint.